------------------------------------------------------------------------------------------------------------------
Our Learning Center remains open and we offering the following events in February. Be sure to visit our website at www.beyondthestitches.com for further details or to enroll.
3

ASG (American Sewing Guild) meeting - you are welcome to visit
4 Quilting with IQ Designer - Special Guest Baby Lock Educator Denise Schober
5

Quilting with IQ Designer - Special Guest Baby Lock Educator Denise Schober
7 - 8 Poppins Bag with Jan S
9 Binding Techniques with Linda Z
12 Serger Basics & Beyond with Jan S
15 Flamingo On The Go Tote with Jan S
18 Open Sewing
19 Totally Trendy with Dot W
21 Folded Star Pincushion with Linda Z
22 Pet Pop Up with Gertie M

26 Serger - Advanced with Jan S

28 Embroidery Quilt Labels with Linda Z

Note: Sew & Tell will begin again on March 5 and continue the First Saturday of each Month at 10:00


Here are some pictures of the fun we have been having in our Learning Center as well as the great projects customers have shared with us from the fabrics purchased at our shop. Be sure to bring your project by and share your inspiration; we love to celebrate YOU and your success.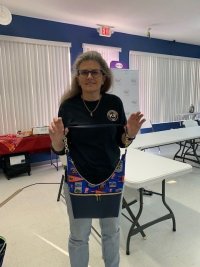 Come grow with us


Newsletter Special:
In Stock THREADS - enjoy 20% off all in-stock threads when you show this section of your Newsletter to our Team Member at the time of purchase. This special does NOT apply to special order or previously purchased items.
You MUST show this section of your Newsletter so be sure to save a screenshot so it appears in your photo gallery on your mobile device or print it as you will need to show it to a Team Member when you check out. This is a savings for Newsletter subscribers only.
We look forward to visiting with you soon. Happy Sewing & Creating!
Beyond The Stitches, LLC Mon - Fri 9:00 - 5:00 pm, Saturday 9 - 3 pm
979 N Suncoast Blvd
Crystal River, FL 34429
(352) 794-3289 www.beyondthestitches.com
email: info@beyondthestitches.com
Facebook: Beyond the Stitches, LLC