We're so glad you're here!
Our Newsletter will provide information on what has transpired during this past month as well as what is coming up.
The Month of February brings forth a lot of fun events to celebrate; things like Valentine's Day. Even if you do not have a special someone to celebrate this "love" day with, you can always count on Chocolates being on sale after February 14th.
We have had a busy month in our Learning Center with some fun classes and events. Be sure to set aside some time and mark your calendars to enjoy a class or celebrate your completed project(s) at Sew & Tell. Check our website for a fun class/event for you. If you see a class that you would like to enjoy and the class is Sold Out, be sure to add your name to our waitlist with a Team Member as openings can happen at the last minute.
---------------------------------------------------------------------------------------------------------------------------------------------
byAnnie.com is a great supporter of supporting local quilt shops and we truly appreicate their support. Their contest held annually brings awareness to brick and mortar shops like ours. We can really use your support by voting for our shop.
PLEASE help us in the LQS contest - One Vote per email address. Voting is January 28 thru February 28.
www.LQSContest.com/vote
Learning Center - February
1 Clam Up
2 ASG (American Sewing Guild) meeting
3 Edge to Edge Quilting with your Embroidery Machine
4 Sew & Tell
6 Tamarack Jacket - prep class
7 Tamarack Jacket - construction
8 Ultimate Bag - prep class Optional
9-10 Ultimate Bag - construction
13 Pattern Drafting & Sundress
14 Beginner Quilting - Part 1
15 Grand Opening of our Furniture section
17 Opening Stitching - all are welcome
20 Bowl Me Over Bag - prep class Optional
21-22 Bowl Me Over Bag - construction
23 Bucket Hat
27 Tunic Top
28 Beginner Quilting - Part 2
---------------------------------------------------------------------------------------------------------------------------------------------
Here are some pictures of the fun we have been sharing at Beyond The Stitches Learning Center
The above class for the Poppins bag was a lot of fun -- check out the three different patterns such as Poppins Bag, Little Poppins Bag and the Mini Poppins Bag.
The Tamarack Jacket has been a lot of fun as this quilted jacket is light-weight and stylist.
The Sling-Along Bag has been a fun class that many customers have enjoyed.
The Pattern Drafting and Sundress class has generated some really cute dresses and beach cover-ups.
The Bucket Hat classes (hat is reversible) has started a revolution of a hat pattern that works well for both women and men. Sign up for a class and you will see what we are excited about.
----
The following pictures will help you experience just a little bit (you have to actually be there to enjoy all of the laughter and fun) of Sew & Tell which is held the First Saturday of each Month at 10:00 a.m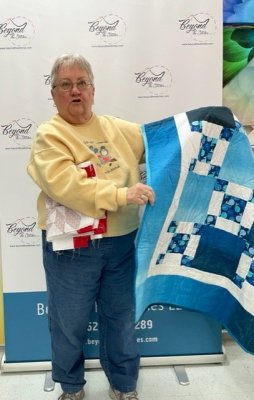 -----------------
We love when customers return with their projects created with fabrics from our shop. Here are just a few below. Be sure to stop by and show (show off) your completed projects with fabrics purchased at our shop so we too can celebrate your success.
Service Department
We offer cleaning and repair services for your sewing machine needs. Simply give our Team Members a call and we can be sure to explain the details.
Newsletter Special
When you show this section of your newsletter to our Team Members, you can enjoy 20% OFF all in-stock fabric panels. This special does NOT apply to special order or previously purchased items. Cannot be combined with any other specials.
You MUST show this section of your Newsletter so be sure to save a screenshot so it appears in your photo gallery on your mobile device or print it as you will need to show it to a Team Member when you check out. This is a savings for Newsletter subscribers only.
Check out our website for new arrivals, top sellers, and sale items!
These emails will give you the best and most recent information you need!
Keep in touch with us by visiting our website!