Thank you to those of you that participated in our Memorial Day Sale. It was fun and heartwarming to see our first customers, Joyce and Shelly lined up at the door at 6:00 a.m. with their coffee and Shelly even had her table, cutting mat, rotary cutter and fabric so she could stay productive while waiting for our shop to open at 9:00 a.m. for the great sale. Yes, you read it correctly, they were in line at 6:00 a.m. and we open at 9:00 a.m. They weren't alone too long as the next group of customers came rolling in at 7:15 a.m. It was fun hearing the laughter and sharing ideas as everyone gathered for our doors to open.
Learning Center - June
1 ASG (American Sewing Guild) meeting
2 Beginner Quilting Class - Short Stacks 3-part class
3 Sew & Tell
5 & 6 Rope Creation with Embroidery
7 Custom Fit Bucket Hat
9 Beginner Quilting Class - Short Stacks 3-part class
10 Tunic Top
15-16-17 BBB Event -- Beautifl Batik Bash
20 Custom Fit Bucket Hat
21 Swinging with Linda and Ropes
23 Beginner Quilting Class - Short Stacks 3-part class
26 H2O to Go Sling
27 Open Stitching
28 & 29 Sidekick Saddle Bag Organizer
30 Charity Sew in Learning Center (kits provided)
If you attended our Triple B event - Beautiful Batik Bash - last year then you know that our Team is busy getting ready for another great event, scheduled for June 15-16-17, where our Learning Center will be filled with Batiks at a great savings from various companies including pre-cuts. This event runs from 9:00 a.m. until 5:00 p.m. on June 15 & 16 then from 9:00 a.m. until 3:00 p.m. on Saturday, June 17th. If you enjoy Batiks you will not want to miss this event.
We always enjoy seeing the projects you create with the fabrics from our shop so please be sure to stop by so we can celebrate your success with you and share the pictures with others to inspire them too. Here are a few that we have been able to celebrate this past month.
Sandra & Joe are enjoying this fun shirt that Sandra created by one of our panels and coordinating fabrics.
Great job Karen & Bill Thompson on this Big Game Quilt
Look at this great Gnome quilt - beautiful work.
Great job on your Tunic Top Tammy
Great job Linda
Beautiful quilt Mickey
Way to go Gertie
Great job on this bee quilt Jo
Love the bee quilt label - honeycombs and all
Oh my goodness - this is a great gift Linda
Beautiful nurse theme bag with Loralie fabrics - way to go
Great job Karen & Bill
Oh my - what a sweet Memory Bear created by Barbara Hood
Way to go Brandy
Way to go Carol
Great job on this Flamingo quilt
Great job Jackie!
We have also had a lot of fun in our classes this past month as everyone strived to complete their project before heading home for the day. Here are a few fun ones.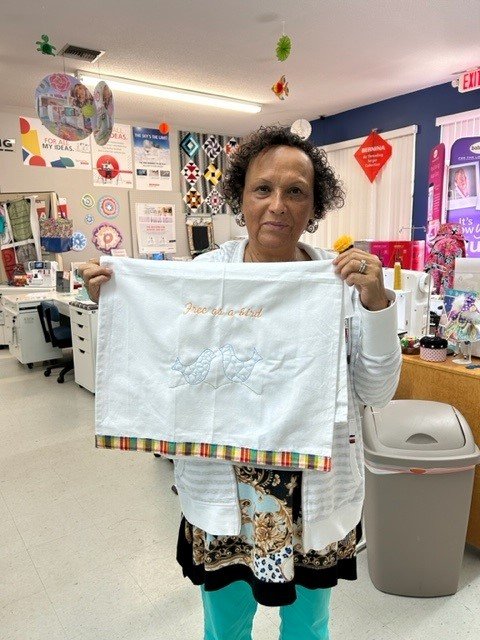 Sew & Tell is always a fun time to become inspired, gather great tips and ideas as well as celebrate others.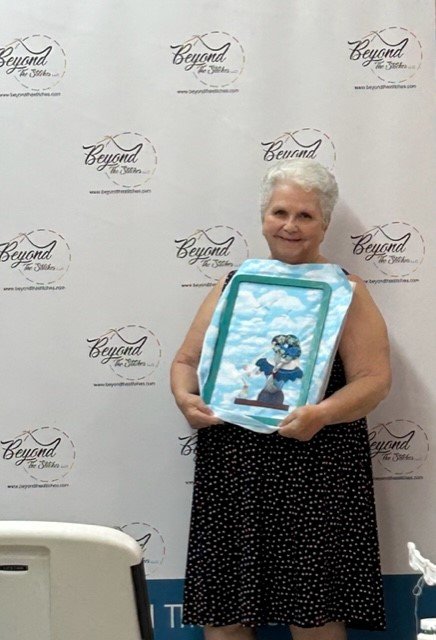 Newsletter Special
When you show this section of your newsletter to our Team Members, you can enjoy 20% OFF all in-stock solid fabrics (minimum 1 yard cut). This special does NOT apply to special order or previously purchased items. Cannot be combined with any other specials.
You MUST show this section of your Newsletter so be sure to save a screenshot so it appears in your photo gallery on your mobile device or print it as you will need to show it to a Team Member when you check out. This is a savings for Newsletter subscribers only.
Service Department
We offer cleaning and repair services for your sewing machine needs. Simply give our Team Members a call and they can explain the details. Check out our 3-day Prior Program.
We look forward to seeing you soon. Happy Stitching & Creating!

Beyond The Stitches, LLC Mon - Fri 9:00 - 5:00 pm, Saturday 9 - 3 pm
979 N Suncoast Blvd
Crystal River, FL 34429
(352) 794-3289 www.beyondthestitches.com
email: info@beyondthestitches.com
Facebook: Beyond the Stitches, LLC