Beyond The Stitches - August 2023 Newsletter
We're so glad you're here!
Our Newsletter will provide information on what has transpired during this past month as well as what is coming up.
Thank you for helping make our Five Year Anniversary a great success. Our Team was ready to greet our fantastic customers to celebrate in many ways and you showed up to help us celebrate. Celebrating our growth, our classes, our Team and certainly celebrating YOU is what has been exciting the past five years. We hope you enjoyed the sales and celebrating with each other.
We learned a lot at our first Bernina University and enjoyed seeing great friends and meeting new ones.
It was fun seeing the various fashion created by very talented sewest
Mom (aka: Jan) and Dondi even made the cover of the Schmetz Needles newsletter
Speaking of talent, check out the cretaions of our local sewest.
Be sure to stop by and share with us the creations you make from the fabric purhased at our shop. We see "fabric" go out and you can celebrate your "fantastic creations" with us when you are done completing your project. Thank you for sharing.
We have had fun in our Learning Center this month with instructors, Mom (aka: Jan) and Linda Z. If you haven't joined us for a class yet, be sure to check out our class schedule on our website, www.beyondthestitches.com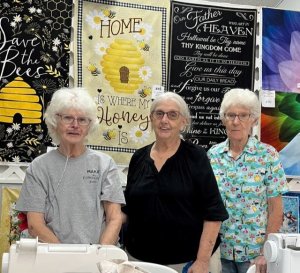 Ellie wanted to gift her sewing machine and supplies to a young sewest to carry on the tradition of sewing......well, Miss. Penelope was the lucky recipent. Thank you for being so gracious and spreading the love of sewing with others Ellie. Congratulations Penelope; we know that you will enjoy this great machine for years to come.
Newsletter Special:
When you show this section of your newsletter to our Team Members, you can enjoy 20% OFF all in-stock Sewing Theme Fabric (minimum 1 yard cut).

This special does NOT apply to special order or previously purchased items. Cannot be combined with any other specials.

You MUST show this section of your Newsletter so be sure to save a screenshot so it appears in your photo gallery on your mobile device or print it as you will need to show it to a Team Member when you check out. This is a savings for Newsletter subscribers only.
-----------------------------------------------------------------------------------------------------------------
Sewing Machine Updates:
Be sure to stop by and check out the new Bernina, bernette and Baby Lock machines.

-----------------------------------------------------------------------------------------------------------------
We look forward to seeing you soon. Happy Stitching & Creating!
Beyond The Stitches, LLC Mon - Fri 9:00 - 5:00 pm, Saturday 9 - 3 pm
979 N Suncoast Blvd
Crystal River, FL 34429
(352) 794-3289 www.beyondthestitches.com
email: info@beyondthestitches.com
Facebook: Beyond the Stitches, LLC