Skip Navigation
Website Accessibility
Beyond The Stitches Newsletter - October 2023
We're so glad you're here!
Our Newsletter will provide information on what has transpired during this past month as well as what is coming up.
October is here and we are starting to feel the cooler weather. October is known across the United States as Breast Cancer Awareness Month. In case you didn't already know, we offer a large selection of Breast Cancer themed fabrics. Be sure to get your Annual Mammogram and offer your support to those in need. There are many free patterns for mastectomy pillows online if you are interested in creating some/one.
We have had some fun classes in our Learning Center this past month and look forward to the upcoming classes. We hope that you can join us for a fun class where you can learn some new tips and techniques as well as meet some new friends. THANK YOU to our instructors that have chosen to dedicate their time to share their passion with others. If you have an interest in sharing your passion as an instructor in our Learning Center please send an email to info@beyondthestitches.com. We always welcome instructors that are organized, willing to share their knowledge, is patient with others and understands supporting our industry with the legacy of sewing/embroidery/quilting.
Here are a few pictures from our Learning Center this past month. Check out our class schedule at our website, www.beyondthestitches.com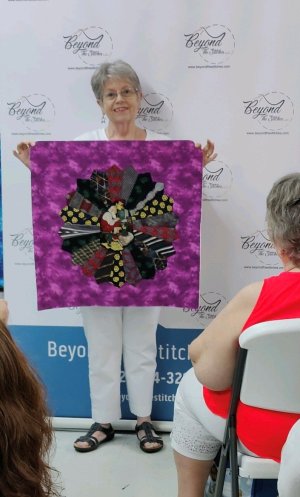 PASSPORTS go on sale October 1st for the Holiday Hot Pad Hop. This great value Passport at only $7.00 ($8.00 beginning November 17) gives you the opportunity to visit 8 shops where you will recieve a free pattern and fabric to create a hot pad that has been designed by the shop. This Holiday Hot Pad Hop is sure to be a lot of fun so stop by and purchase your passport today. The dates for this great event is November 17 thru December 2nd so you can collect these treasures at your pace.
**********HOLIDAY OPEN HOUSE & SALE***************
Our Holiday Open House & Sale is a great time to get your holiday shopping done with GREAT SAVINGS. Be sure to join us on November 16-17-18 for fun, laughter, sale prices and great selections. We will have Fred with us on Friday, November 17th to sharpen all of your scissors.
-----------------------------------------------------------------------------------------------------------------
Newsletter Special


When you show this section of your newsletter to our Team Members, you can enjoy 20% OFF all in-stock patterns.

This special does NOT apply to special order or previously purchased items. Cannot be combined with any other specials.

You MUST show this section of your Newsletter so be sure to save a screenshot so it appears in your photo gallery on your mobile device or print it as you will need to show it to a Team Member when you check out. This is a savings for Newsletter subscribers only.
-----------------------------------------------------------------------------------------------------------------


Sewing Machine Updates
We new shipments of machines often. Be sure to stop by and check out the new Bernina, bernette and Baby Lock machines.
If you don't see the machine you want, simply ask one of our Team Members to add yours to our weekly order.


-----------------------------------------------------------------------------------------------------------------
Service Department
We have received great comments about our Service Technician, Gary. Thank you for sharing your comments. Our Team takes pride in making sure your machine is treated well and ensure the "Spa Day" or the "Repair Day" is done with excellence.
Our 3-day Prior Program allows you to continue to use your machine while you are waiting. Simply let our Team Members know that you would like a Work Order created then we will contact you when we are ready for your machine. Upon contact, you will have 3 business days to bring your machine to our Service Department and we will get your machine done quickly.
-----------------------------------------------------------------------------------------------------------------


We look forward to seeing you soon. Happy Stitching & Creating!



Beyond The Stitches, LLC
979 N Suncoast Blvd
Crystal River, FL 34429
Mon - Fri 9:00 - 5:00 pm, Saturday 9 - 3 pm
(352) 794-3289 www.beyondthestitches.com
email: info@beyondthestitches.com
Facebook: Beyond the Stitches, LLC